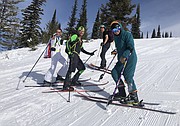 Last winter season, the outdoor enthusiast and dad Chance Cooke recorded 118 days of skiing – a stark contrast to the 20 or so he usually estimates on average.
Over a six-month period, he climbed 363,000 vertical meters, climbed Big Mountain 173 times, and spent nearly 250 hours recording more than 700 miles on his touring skis. This sum includes climbing Benny Up to the summit of Whitefish Mountain Resort 10 times in one day in late March to raise more than $ 8,000 for nonprofit DREAM Adaptive Recreation.
The stats he's gathered from the season are pretty remarkable, even Chance agrees, but his motivation for spending so much time outside on skis is the beginning of the real story.
Chance and his wife Barb have three daughters – Paetra (17), Isabelle (15) and Kate (11). The family loves to ski together and spend time outdoors in the beautiful Whitefish area where they call home.
When the Cookes took baby Kate into their family eleven years ago, their whole world changed. During childbirth, Kate suffered trauma that caused a small amount of bleeding in her brain, which resulted in her being flown to Seattle Children's Hospital, where she underwent her first brain surgery when she was just four weeks old.
She was diagnosed with hydrocephalus, a build-up of fluid deep within the cavities of the brain that warranted surgery to insert a shunt to relieve pressure in her skull. The condition was her first diagnosis and many other challenges have arisen from it, including developing persistent epilepsy.
"Your medical history is very complex and not crystallized," Chance told the pilot. "It's very nebulous; Neurology in general is very nebulous. "
With all of the medical challenges that Kate has faced as she grows older, she has lost the fine motor skills she needs to use her right hand and foot, and she can only see her field with the left side of both eyes cuts visual disturbances due to epilepsy in the left hemisphere.
Because of this, she needs adaptive equipment to be active outdoors with the rest of her family – this is where the DREAM Adaptive Recreation program comes in.
"She has a place where she can enjoy nature and has a program that engages her for what she can do, not what she can't," said Chance.
By the beginning of winter, Chance already knew that he wanted to raise a significant amount of money for DREAM at the annual Shred-A-Thon fundraiser in the spring and the training for that was a big part of his reasons for climbing almost every mountain day. But when it comes to daily motivation, Kate's wellbeing and his family are always paramount.
Chance and Barb hold out each year by assisting Kate with her many surgeries and medical consultations, which often puts her in a car to drive to hospitals far away. Chance had made it a goal to get out and about as often as possible before the almost inevitable onset of his daughter's health, which was manifested by increased seizures, made time to ski impossible.
"My daughter is 11 years old and the roller coaster comes back in different shapes and forms as she ages," he said. "So we entered this fall to solve another mystery to their wellbeing."
"The motivation (skiing) is based on the expectation that at some point I will have to quit this activity so that I can get the most of it while I can," he added.
But for the first time ever, Kate's surgery to replace a valve in her brain this winter – her fifth brain surgery to date – was able to take place on-site at Logan Health in Kalispell, giving the family a break from the grueling road trip that awaited them. And so Chance was able to continue his usual early morning mountaineering activities throughout the winter.
Chance can leave his house in Whitefish, skin Big Mountain, and make it back home in about a two-hour tour. So it became a kind of routine exercise for him and a boost to his mental health throughout the winter.
"A friend said the process is very reasonable," he recalls. "Fitness feels good and training feels good, but you also have something under control. If nothing goes well today, I'll take a lap on the hill and then I can cope with every disaster that comes before me. "
And so he went on. He got up before sunrise and had a powerful ski season that at least for a moment helped him through the stresses of life.
CHANCE has been grateful to the Whitefish community since he and Barb moved here in the early 2000s. He started volunteering on city councils, and then community involvement meshed from there. Chance is now investing its efforts in volunteering and bringing more awareness to DREAM.
Before joining Whitefish, Chance was a professional biker; he tried his hand at road racing and had several mountain bike sponsorships. He grew up playing sports and played lacrosse throughout college at Radford University in Virginia.
His athletic background taught him a wealth of lessons relating to the real world, and in turn made him an adaptable person who can handle difficult situations.
But what really put bike racing into focus was the power to be around people who are naturally optimistic – 125 top racers on the line and everyone has the absolute confidence that they will come first, they pointed out with one Laugh out.
"At least I recognized and learned to appreciate this optimism," said Chance. "Then some of the challenges we faced as a family definitely benefit from realizing the value of being around such people. We found them in the health industry, especially in pediatrics, in spade form. "
KATE HAS a complex mountain of health challenges to climb every day, but somehow she keeps her brightest smile and her beautiful soul shines to everyone around her.
She has struggled with seizures and persistent epilepsy since childhood, which is epilepsy that is still uncontrollable with medication or therapy. When she was 4 years old, her seizures worsened, causing her to vomit often and go without food for days. She was diagnosed with failure to thrive, which forced her parents to look for new treatments.
Kate's doctors at Mayo Clinic in Rochester, Minnesota found that the best chance to control her seizures was to do a hemispherectomy – essentially, they would separate the left side of their brain from the right side, which is all cross-communication would end between the hemispheres.
"When they do the surgery, they basically take away half of her computer. Okay, we'll take half of your brain offline and it'll never come back, "he explained. "This path is not taken lightly, it has been heavily considered."
It's such a rare and invasive surgery that Chance and Barb first said no, and even the Mayo Clinic canceled the surgery to reevaluate it before performing it. The biggest risk with the hemisphericectomy, according to Chance, was that Kate may have suffered a complete loss of speech. Amazingly, he says that she came from practice speaking, and the first thing she asked about was her father.
After her recovery, Kate's seizures decreased significantly. Although she's still having seizures, she can do a lot more in her everyday life. Kate loves to play the piano, swim, paddle, bike, ski, and ride horses at the Two Bear Therapeutic Riding Center.
"I like being outside," says Kate.
DREAM ADAPTIVE stepped into Kate's life five years ago and played an essential role in helping her feel more confident and independent, Chance noted.
The program has helped Kate in many ways, as well as the entire Cooke family. DREAM Adaptive's mission is to improve the quality of life for people with disabilities by providing adaptive outdoor recreational opportunities throughout the year. But Chance says they are very focused on providing support to these people's families as well.
DREAM made it possible for Kate to have her own experience of the great outdoors, just like the rest of her family. Chance remembered a time when his two older daughters were on the ski racing program at Whitefish Mountain Resort. He said they drove into the village to drop off the older girls and then went to the base of the mountain to get Kate ready for the day with her DREAM Adaptive program.
"That's a pretty good example of the spectrum we live with in our household – children with very different perspectives on the world, they have different experiences when they live in the exact same room," said Chance. "Growing up in the same house, mostly with the same peer groups, but they experience life in the community on very different levels."
Given the importance of the program to the Cooke family, Chance made it a point to race lap after lap for DREAM's annual Shred-a-Thon event.
Because of him, the Uphill category was added this year and four people participated on March 27th by skinning the mountain while many others participated by riding lifts and tracking as many vertical feet as possible.
Chance got his crew together at 6am that morning with the goal of doing six or seven laps. When he and friend Jeff Brown got into the groove along with other community supporters, they just kept going, he says. The laps to the summit each took just under an hour. At the beginning, Chance also wore an Elvis suit and aimed to make the non-profit organization better known.
"I knew I wanted to throw it out of the park in such a way that the event would be a spectacle," explained Chance. "I wanted people to talk about it. I wanted there to be a positive narrative around the support of DREAM that inspires people to come out next year and be a part of it, that was my goal. "
He surpassed this goal by asking community members to donate more than $ 8,000 to Team Kate. The event raised a total of $ 35,000 for DREAM.
In the end, for the fundraiser, he climbed over 20,000 feet in 10 hours – more vertical meters than he'd ever recorded in a day. But when he thinks of what kept him going, of course it was his daughter Kate.
"Mountaineering – it's a constant theme in the DREAM program, it empowers you," he said. "So here we are in a moment of honesty and clarity, I have the ability to do things that not everyone does.
"If I can do that and draw attention to this activity, then I can derive resources for the program by making it into a spectacle."